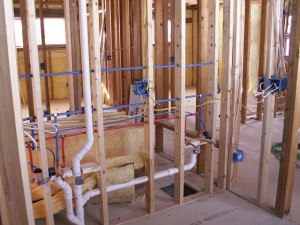 If you're looking for a Zanesville Ohio plumbing company that you can count on to get your plumbing repair job done right, then look no further than Thorne Plumbing. Thorne has been a local, family-owned business since 1965; that's 50 years of providing excellent service to the Zanesville area. Let us be your #1 Zanesville Ohio plumbing company!
Zanesville Ohio Plumbing Contractors
Thorne's Zanesville Ohio plumbing contractors have the knowledge and experience required to complete any residential or light commercial plumbing service that you need. Read on for more information about the plumbing services that we provide.
Zanesville Ohio Plumber Services
From clogged drains and leaky faucets, to frozen pipes and water pressure problems, our Zanesville Ohio plumber services can fix them all. If your toilet is clogged and the plunger isn't working, give us a call. Most products available for unclogging drains are not safe to use in the toilet, but with the professional Zanesville Ohio plumbing services of Thorne Plumbing, you don't have to worry. We have the tools necessary to safely unclog your toilet without damaging the pipes or the septic system.
Zanesville Ohio Plumbing Repair Service
Plumbing is not meant to last forever so if you're noticing that your pipes just aren't working like they used to, we can fix them. As a trusted Zanesville Ohio plumbing company, we offer plumbing repair services as well as plumbing installation. If only a portion of your plumbing needs replaced, that's all we'll replace. We don't force you to make unnecessary replacements or pay unnecessary charges.
Zanesville Ohio Plumbing Installation
Purchase a gutted, fixer-upper home recently? Doing some deep remodeling of your current home or rental property? Thorne Plumbing offers Zanesville Ohio plumbing installation for both of these situations. You pick the type of plumbing you want, and we'll install it. If you're not sure which kind would work best, just ask! We're more than happy to share our wisdom and advice so that you can be sure you're getting the proper plumbing installed.
Click the following link to find out whether you can fix the issue yourself or if you need plumber services instead.
When experience and efficiency matter, call Thorne Plumbing to be your Zanesville Ohio plumbing company.
Zanesville Ohio Plumbing Company – Thorne Plumbing | Muskingum County OH
---