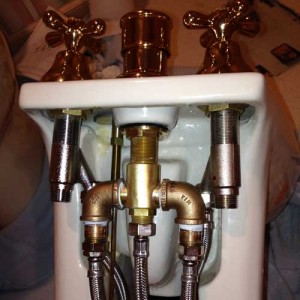 Are you looking for a trusted, dependable Muskingum County plumbing contractor? Look no further because Thorne Plumbing, Heating, and Air Conditioning is right here in Zanesville, Ohio, and we proudly serve the Muskingum County area. When you have a leak that's driving you crazy, give the professionals at Thorne Plumbing a call – we'll take care of the problem!
Everyone has dealt with that annoying drip-drip-drip sound at one point or another. Not only is the sound bothersome, but when you have a leak – even a minor but constant drip – it can raise your water bill significantly depending on the size and duration of the leak.
At Thorne Plumbing, we offer:
Plumbing Services
Drain Cleaning
New Construction Installs
Water Heater Replacement
Gas Piping Repair & Installation
Water & Drain Piping Replacement
Video Drain Piping Location & Inspection
Repair and Replacement
Sinks
Toilets
Faucets
Showers
Bathtubs
Disposers
Drain clogs can be even more annoying and troublesome than a drip or leak. Have you ever gotten in the shower only to soon realize that you were actually taking a bath because the water is filling the tub instead of draining? If you have a drain protector or hair catcher installed over your shower drain, you can easily remove the hair from the protector. If you don't have one of these devices, the clog is likely down in the drain. This is where that handy Muskingum County plumbing contractor comes in.
The experienced professionals at Thorne Plumbing want you to think of us the next time you need a Muskingum County plumbing contractor. We will come in, assess the situation, and get your pipes back in proper working order in no time. We can also install all of the plumbing for new construction builds. If it's plumbing related, we can handle it. Remember to make Thorne Plumbing your #1 call for all your Muskingum County plumbing contractor needs.
Muskingum County Plumbing Contractor – Thorne Plumbing | Zanesville OH
---