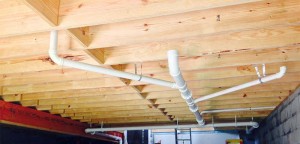 Are your clogged drains getting you down because the water in them won't go down? If so, give Thorne Plumbing a call; we're one of the most trusted Muskingum County plumbing companies in Zanesville Ohio.
Muskingum County Plumber
If you've got a clog, we want to fix it. As one of the best Muskingum County plumbing companies, we offer video drain piping and inspection and drain cleaning. The video inspection allows us to see exactly where the clog is and clear it out easily. Don't bother with those messy plastic hooks; call Thorne Plumbing instead. We'll take care of the hassle so you don't have to.
Muskingum County Plumbing Installation
In order to be among the favorite Muskingum County plumbing companies, we have to offer services that potential customers need. In addition to our drain cleaning services, we also provide Muskingum County plumbing installation. If you just bought an old, gutted fixer-upper or are adding a new bathroom or laundry room, let Thorne install your new plumbing for you.
Muskingum County Plumbing Repair Service
Notice your plumbing leaking lately? Thorne offers plumbing repair service for your existing plumbing. We'll replace your old plumbing with brand new piping, so you can live dry and free once again. If it's just your fixtures that are leaking, we can replace those as well. We also provide gas and sewer piping repair and installation, as well as water heater replacement.
Our professional technicians are trained in all aspects of plumbing, so if you need the services of one of Zanesville Ohio's most knowledgeable and dependable Muskingum County plumbing companies, call Thorne Plumbing today. We offer all types of plumbing maintenance and are here to answer any questions you have about our plumbing, heating, or cooling services.
Muskingum County Plumbing Companies – Thorne Plumbing | Zanesville OH
---